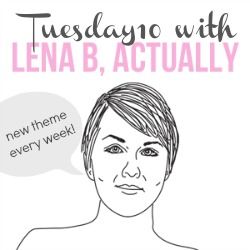 I am SO excited to be co-hosting The Tuesday 10 with Lena B, Actually, although some may know her as Mom to Memphis and Ruby. But you know, sometimes we want to be ourselves, not just "so-in-so's mom." Anyway, back to the topic at hand, the Tuesday 10. This week's topic is; The 10 things you would do or buy FIRST if you won the lottery.

1. and 2. For my family and my parents.
3. I would totally build a replica of the house in Home Alone.
4. Build my parents a house.
5. College accounts for both of my children.
6. An Escalade for me (for my children and my dad's wheelchair)
7. A new Volvo for my mom
8. A BumbleBee Replica for my husband
9. A Beach house on Miami's Star Island
10. Who lives on Star Island without a boat, right?